Princess Charlotte spotted gently instructing Prince George to bow during Queen Elizabeth's funeral
Prince George and Princess Charlotte joined their parents in honoring Queen Elizabeth II Monday as they followed their great-grandmother's coffin into Westminster Abbey.
Although initially unclear if the two eldest children of the Prince and Princess of Wales would attend the late monarch's state funeral, Buckingham Palace confirmed the news when it released details of the event Sunday night.
Ever since their birth, the children have captured the world's attention.
And while Monday was meant as a day to celebrate and honor the Queen, many kept their eyes on Prince William and Kate Middleton's two eldest children, especially since their presence was reminiscent of William and Harry attending Princess Diana's funeral.
William, Prince of Wales and Catherine, Princess of Wales, Prince George and Princess Charlotte, The Earl and Sophie, Countess of Wessex attend, at the state funeral of #QueenElizabethII, at Westminster Abbey 📸@Reuters #QueenElizabeth #Queensfuneral pic.twitter.com/R3RcfAIh2O

— Derek Momodu (@DelMody) September 19, 2022
During the events of the day, eagle-eyed viewers noticed several special moments that would have made the Queen proud.
READ MORE:
Princess Charlotte, 7, arrived at Westminster Abbey in London matching her mother, wearing a long black coat along with a black hat and a bow – a touching tribute to the Queen.
The Queen's great-granddaughter also wore a small diamond brooch in the shape of a horseshoe, said to represent the Queen's love of horses.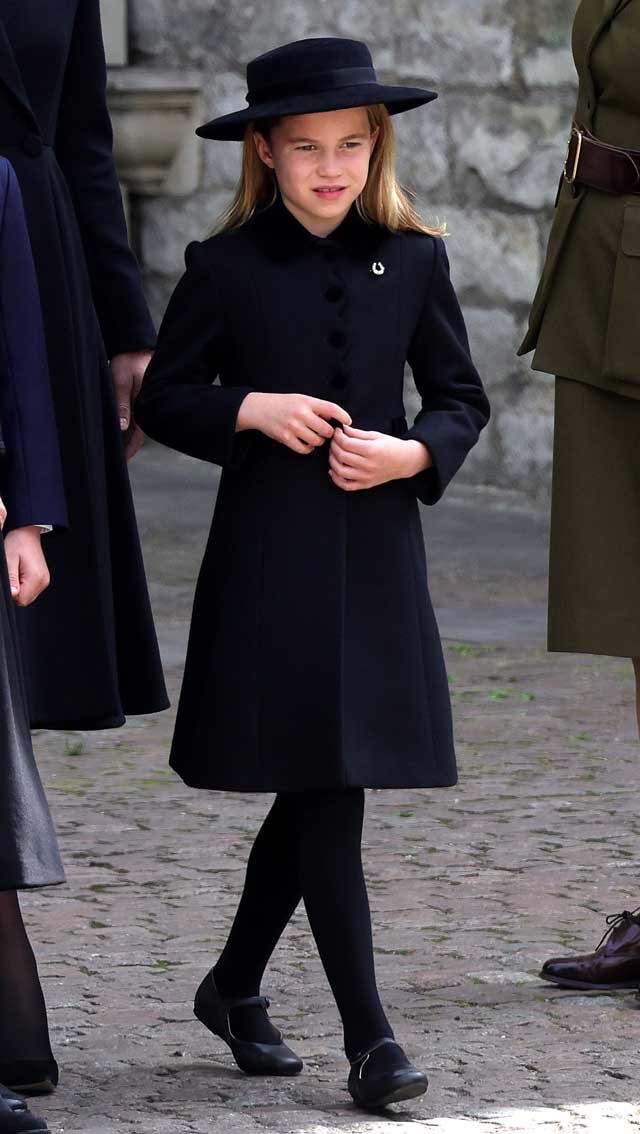 Following the ceremony, Charlotte was spotted appearing to instruct her older brother Prince George, 9, how to act when their great-grandmother's coffin passed by at Wellington Arch.
Princess Charlotte whispering to Prince George.

Cr: theroyalsandi, tumblr. pic.twitter.com/TPfOJpDusI

— Isa (@isaguor) September 19, 2022
It was a fleeting moment, but a cute one.
It certainly wouldn't be the first time Princess Charlotte directed her brothers how to act. While at Trooping the Color in June, George, Charlotte, and their youngest sibling Louis, 4, who was not at Monday's events, all sat in the same carriage.
Both Charlotte and Louis were enjoying themselves by waving to the crowd. At one point Charlotte stopped and decided Louis should stop too, so she took his hand and placed it in his lap.
Louis pleased his sister by ceasing his enthusiastic waves for a few moments, before returning to waving to the crowd.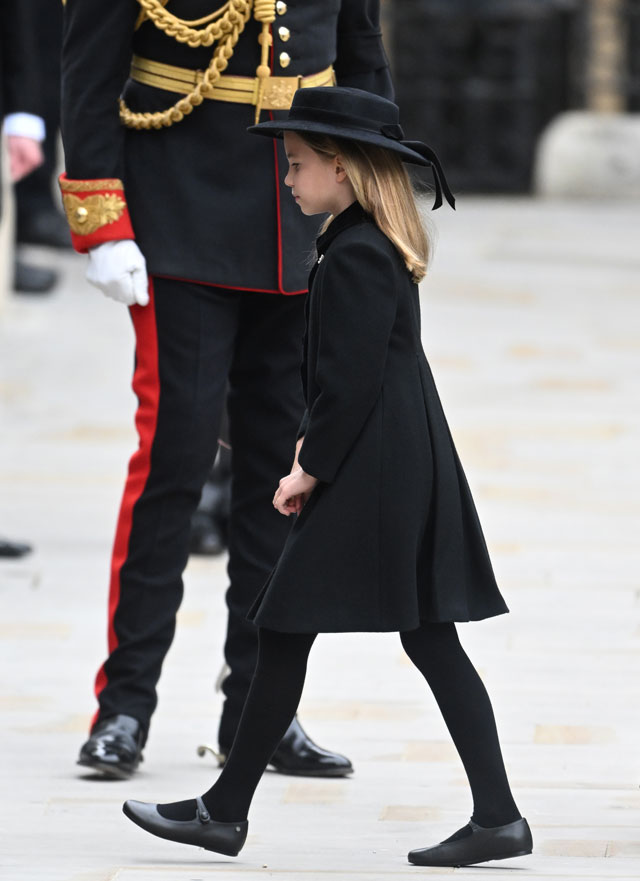 Photo by Samir Hussein/WireImage
During Queen Elizabeth's Platinum Jubilee, Princess Charlotte was spotted giving George a nudge when he needed a little rest during the playing of the national anthem.
Within seconds George straightened up and placed his arms by his sides.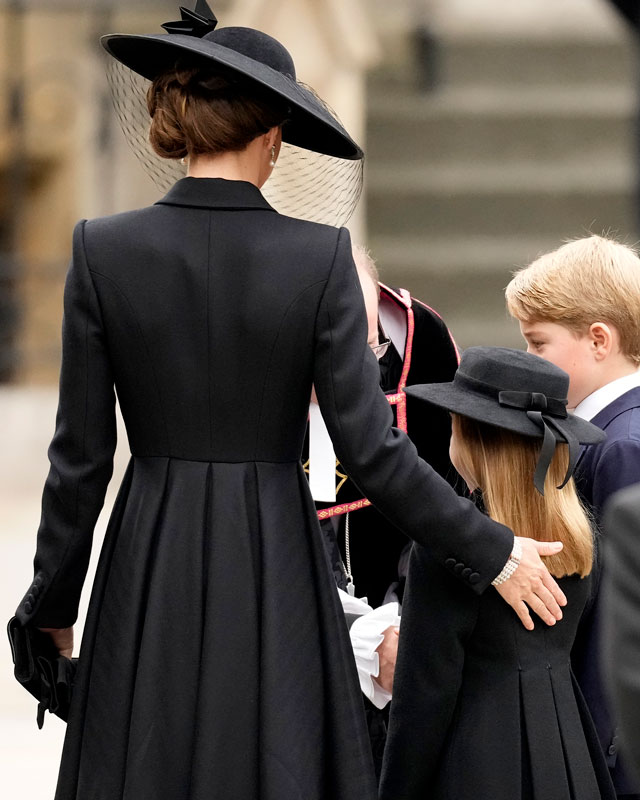 According to People, Prince William and Kate debated allowing their two oldest children attend the late monarch's funeral. One factor in their decision making was that they attended Prince Philip's memorial service.
Elaine Gee, a teacher and mourner, got to speak with William about talking to children about the death of Queen Elizabeth.
"I told him how I work at a school and how it's been a strange year celebrating the Jubilee and now it's all changed and we are talking about this," Gee said. "He spoke about George, Charlotte and Louis, saying that they were trying to keep some sense of continuity for them at school and keep things as normal as possible."
But when your great-grandmother is Queen Elizabeth II, and you're part of the royal family, few things will be normal.
Prince George and Princess Charlotte have been thrust into the spotlight as they grieve the loss of a family member. I do hope that they are able to properly grieve in private with their family.
Please continue to pray for the members of the royal family.
Share on Facebook